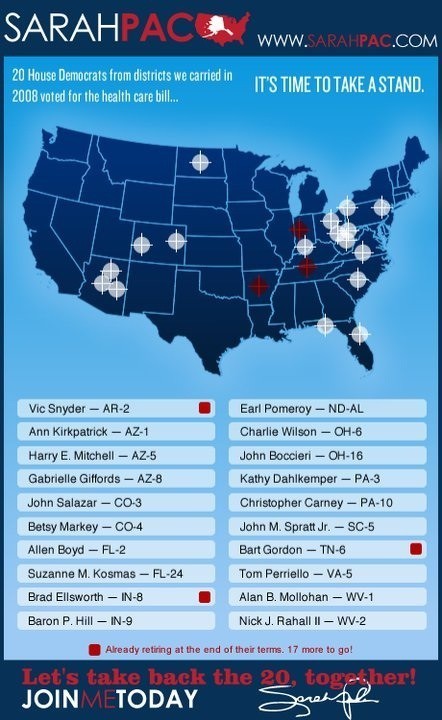 I've read a few pieces about how we shouldn't lump this shooting in with the GOP/Tea Party until we know for sure that's who he was associated with. I say bullshit. The GOP/Tea Party has created this heated, often violent, political environment in which reasonable proposals by the Dems have been twisted into neo-fascist takeovers of people's lives, all the while spouting the virtue of armed revolution and resistance. They created this situation. From what I've read the shooter was a liberal in 2007, but his recent comments seem to come straight out of Glen Beck's next book, full of gold and silver monetary rants and conspiracy theories about governmental power and admonish ions about how the American people need to read the Constitution (sound familiar…?). Not to mention the fact that Palin and others are now scrubbing their websites of things like cross-hairs and quotes about reloading…
The very real fact of the matter is that the Right wing of our society is violent, greedy, selfish, bigoted, hate filled, and anti-American. They cannot be trusted; their behavior these last 2 years demonstrates this. I was totally immersed with the Left when Bush came to power, and I remember anger, but also caution, and distrust, but also a willingness to listen. Not this crowd. They are psychotic apes, flinging the verbal equivalent of feces at anything that scares them, oblivious to the harm they are doing to this nation, and this planet. They must be stopped at the political level; we on the Left have the ability, the intellect, and the incentive. All that's missing is the motivation. If this shooting doesn't do it for us, then what will? Obama being killed? Because you know that's what they really want to do.
Oh, and sometimes I wish we atheists had something trite but meaningful to say like "We'll keep her in our prayers." Because that's what I would say about Rep. Giffords and the others who were wounded.